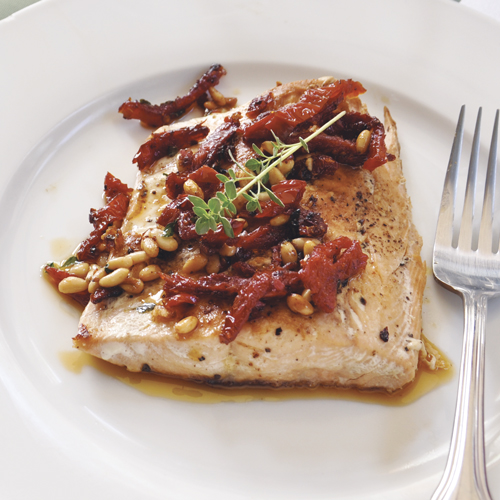 Pan Roasted Salmon with Sundried Tomatoes and Pine Nuts
2 6-oz. salmon fillets
2 tablespoons olive oil, divided
Salt and pepper to taste
1⁄3 cup sliced sundried tomatoes, drained 1 shallot, minced
1 garlic clove, minced
1⁄4 cup red wine
2 teaspoons chopped fresh thyme
2 tablespoons pine nuts
Preheat oven to 350°F. In a large oven-proof skillet, heat 1 tablespoon olive oil on stove until oil just begins to smoke. Add salmon and season with salt and pepper. Cook 3 minutes, then remove from heat and cover with a lid. Place in oven and cook about 10 minutes, until skin is very crisp. To make the sauce: Add 1 tablespoon olive oil to a medium skillet. Add tomatoes, garlic and shallot, and cook about 4 minutes on medium heat. Add wine, thyme and pine nuts, stirring to mix well. Cook for 4 to 5 minutes, taste for salt and pepper, and serve with salmon.
Makes 2 servings.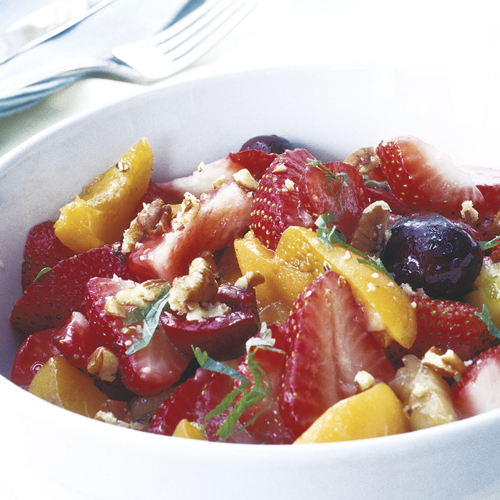 1 cup sliced strawberries
1 cup grapes
1 cup sliced kiwifruit
1 cup pitted cherries, halved
1 tablespoon fresh chopped mint
1 medium banana, sliced
1⁄4 cup chopped toasted pecans
2 tablespoons fresh orange juice
1 tablespoon fresh lemon juice
1 tablespoon honey
Mint leaves for garnish
Combine fruit, mint and pecans in a large bowl. Set aside. Whisk together orange juice, lemon juice and honey. Add to fruit and toss well. Garnish with mint leaves.
Makes 6 to 8 servings.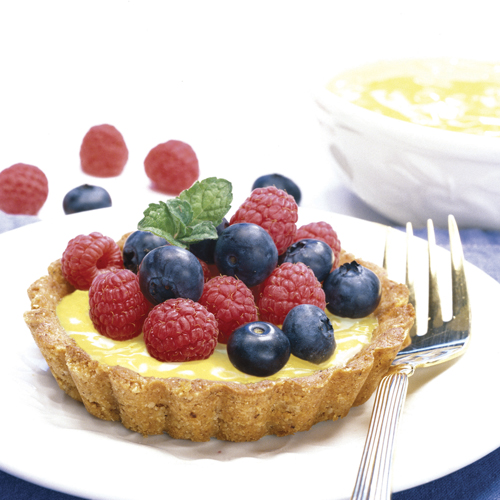 Lemon Cream Tarts with Almonds
Pastry:
32 vanilla wafer cookies
1⁄2 cup toasted almonds, processed to almost powder (or use almond flour)
2 tablespoons melted butter
2 tablespoons water
1 teaspoon almond extract
Filling:
1⁄4 cup cornstarch
1 cup sugar
1⁄3 cup cold water
1 cup hot water
1⁄2 cup lemon juice
1 teaspoon grated lemon rind
2 large egg yolks
2 tablespoons melted butter
Topping:
Fresh raspberries
(and blueberries if desired)
Preheat oven to 425°F.
To make tart crusts: Process wafers until finely ground. Combine with ground almonds in a bowl and slowly mix in butter and water, stirring with a fork to blend well. Stir in almond extract. Lightly spray six tart pans, approximately 3-inches in diameter with removable bottoms, with nonfat cooking spray. Divide dough mixture evenly and press into tart pans. Press dough to edges first, then fill in the bottoms. Place tart pans on baking sheet and bake for 10 minutes. Remove from oven and let cool. To make filling: In a medium saucepan com-bine cornstarch and sugar. Stir in cold water first, then hot water. Cook on medium heat, stirring constantly, until mixture thickens and is clear, about 10 minutes. Remove from heat. Stir in lemon juice and grated lemon rind. Re-turn to heat and cook 2 minutes. Place egg yolks in a bowl and beat slightly. Remove 1/2 cup filling mixture from saucepan and slowly stir into egg yolks. Slowly return egg mixture to saucepan, add butter, and cook for 2 minutes, stirring constantly. Remove from heat, let cool, and pour into tart crusts. Top each tart with fresh berries and serve immediately, or refrigerate filling until ready to serve.
Makes 6 servings.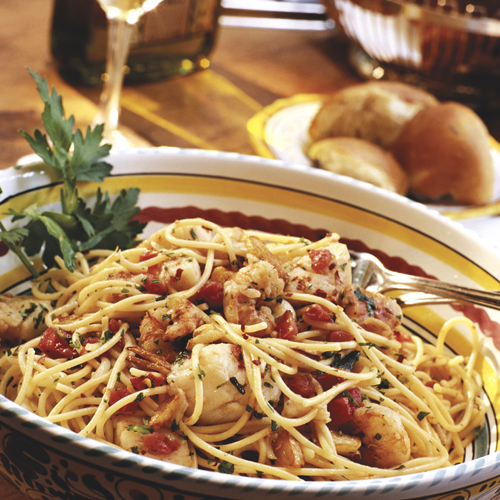 Spaghetti with Scallops and Shrimp
1⁄2 pound spaghetti
3 tablespoons olive oil
4 cloves garlic, minced
1 can (141/2 oz.) whole tomatoes, drained and chopped
1⁄2 teaspoon coarse salt, plus extra if desired
1⁄4 teaspoon red pepper flakes
1⁄4 teaspoon ground black pepper
1⁄2 cup white wine
1⁄2 pound scallops
1⁄2 pound large shrimp
3 tablespoons butter
2 tablespoons chopped parsley
Cook spaghetti according to package directions. While pasta is cooking, prepare sauce: Heat oil in a large, nonstick skillet. Sauté garlic for 2 minutes. Stir in tomatoes, 1/2 teaspoon salt, red pepper flakes, black pepper and wine. Cook for 5 minutes. Add the scallops, shrimp and butter. Cook over high heat for 3 to 4 minutes. Drain the cooked pasta and add the pasta to the skillet. Toss with sauce. Add the chopped parsley and additional salt, if desired. 
Makes 4 to 6 servings.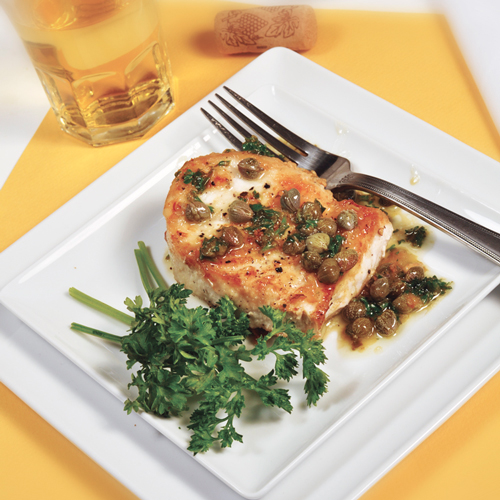 Sicilian Swordfish in a Lemon Caper Sauce
4 swordfish steaks, 1/2-inch thick
1⁄2 cup flour
Kosher salt and freshly ground black pepper
6 tablespoons olive oil, divided
Juice of 2 lemons
Zest of 1 lemon
1⁄3 cup minced fresh parsley
1⁄4 cup capers, rinsed and drained
In a baking dish, stir together flour, salt and pepper. Pat the fish dry, then lightly coat them with the flour mixture. 
In a large skillet, heat 4 tablespoons of olive oil on medium. When oil is almost smoking, add the fish and cook 3 to 4 minutes per side. Remove the fish and place on warm platter; cover with paper towels.
Quickly discard all the oil in skillet and add remaining 2 tablespoons oil to the skillet. Add the lemon juice, zest, parsley and capers and bring mixture to a boil. Serve sauce with fish.
Makes 4 servings.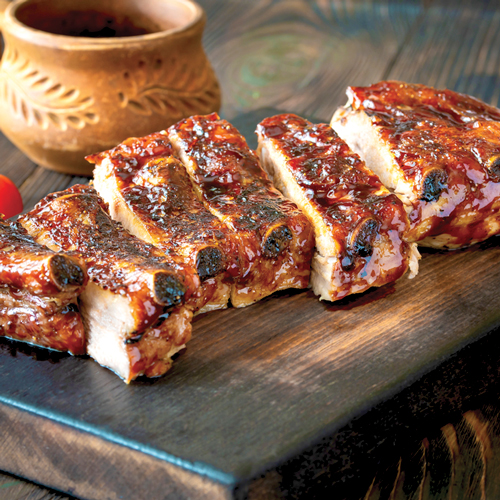 2 pounds lean pork spareribs
1⁄3 cup olive oil
Juice of 1 lemon
2 tablespoons tomato paste
Salt and pepper to taste
Extra olive oil for brushing
Freshly minced parsley
Cut the ribs into 4 equal sections and place on a large plate. In a small bowl, whisk together olive oil, lemon juice and tomato paste. Coat the ribs with the mixture and season with salt and pepper. Cover and refrigerate for 2 hours.
When ready to cook ribs, heat the grill on high. Using a pastry brush, carefully coat the grill with some olive oil. Place the ribs on the grill and turn every 7 to 8 minutes, brushing with the marinade. When ribs are cooked all the way through, they should be crisp and well done. Remove ribs from grill and let sit for 5 to 7 minutes before serving. Brush with extra olive oil and sprinkle with parsley.
Makes 4 servings.
Editor's note: This is the way you might find ribs cooked in Florence. For your table, it's OK to add some barbecue sauce if you wish!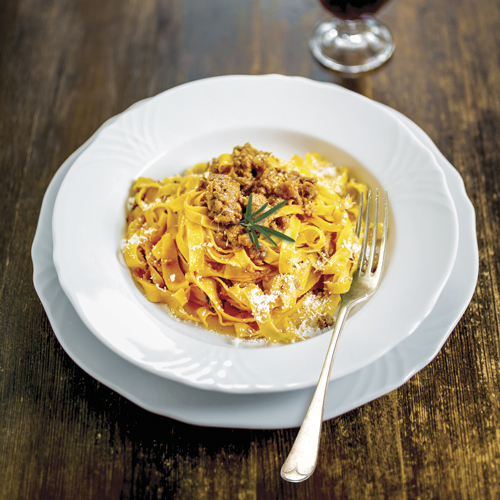 1 pound ground beef 
1 medium onion, chopped 
3 cloves garlic, chopped 
1 medium green bell pepper, diced 
1 (28-oz.) can diced tomatoes
1 (16-oz.) can tomato sauce 
1 (8-oz.) can tomato paste 
1 teaspoon dried oregano 
1 teaspoon dried basil 
1⁄2 teaspoon salt
1⁄2 teaspoon black pepper
1 pound tagliatelle, cooked according to package directions
1⁄2 cup grated Parmesan cheese
In a large skillet or pan, combine the ground beef, onion, garlic, and green pepper. Cook over medium heat, stirring frequently, until the meat is browned and the vegetables are tender. Drain the grease from the pan. 
Stir in the diced tomatoes, tomato sauce, tomato paste and seasonings. Simmer at least 1 hour, stirring occasionally. 
Serve with cooked tagliatelle and grated Parmesan cheese.
Makes 8 servings.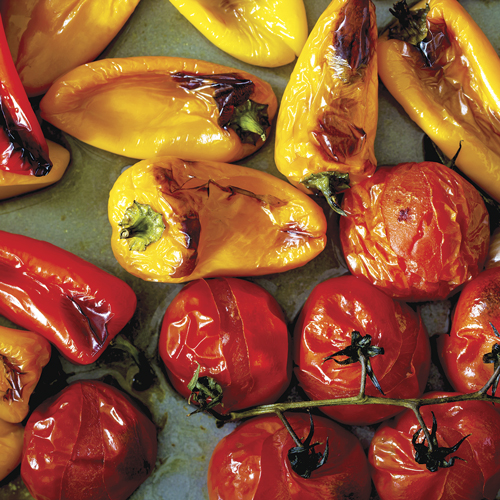 Roasted Sweet Peppers and Tomatoes
1 pound sweet peppers, cleaned, and sliced into lengths
1 pound cherry tomatoes 
1⁄4 cup olive oil
6 whole garlic cloves
Sea salt and freshly ground pepper, to taste
Preheat oven to 400°F. Toss the sweet peppers, tomatoes, olive oil, and garlic cloves in a roasting pan. Add sea salt and freshly ground black pepper, to taste. Roast for 30 minutes or until soft and slightly charred.  
Makes 4 to 6 servings.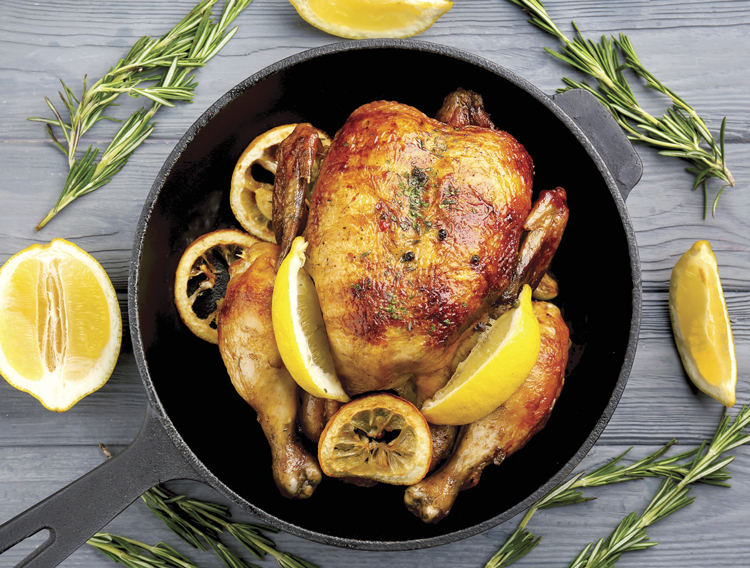 Roasted Chicken with Herbs and Butter
1 whole chicken, about 31⁄2 to 4 pounds
3 garlic cloves, minced
2 tablespoons chopped fresh rosemary
2 tablespoons chopped fresh sage
2 tablespoons chopped fresh parsley
2 tablespoons butter, melted
1 tablespoon olive oil
2 tablespoons fresh lemon juice
1 small lemon, cut in slices
Salt and pepper to taste
Position a rack in center of oven and preheat to 400°F. Place a roasting rack in a roasting pan. Wash chicken and pat dry. Combine garlic, rosemary, sage, parsley, butter, olive oil and lemon juice in a small bowl and whisk to mix well. Place the lemon slices in cavity of chicken and place on rack. Using your hands, rub herb-butter mixture on and under skin. Tuck the wing tips behind the back and tie the legs together with kitchen string. Sprinkle with salt and pepper.Roast the chicken for 30 minutes. Remove and baste with accumulated juices. Roast for another 20 minutes. Chicken is done when the thickest part of the thigh is 175°F. If chicken is not browned to your satisfaction, increase heat to 450°F for another 10 to 15 minutes. Transfer chicken to platter and cover loosely with foil for 10 minutes before serving. 
Makes 6 servings.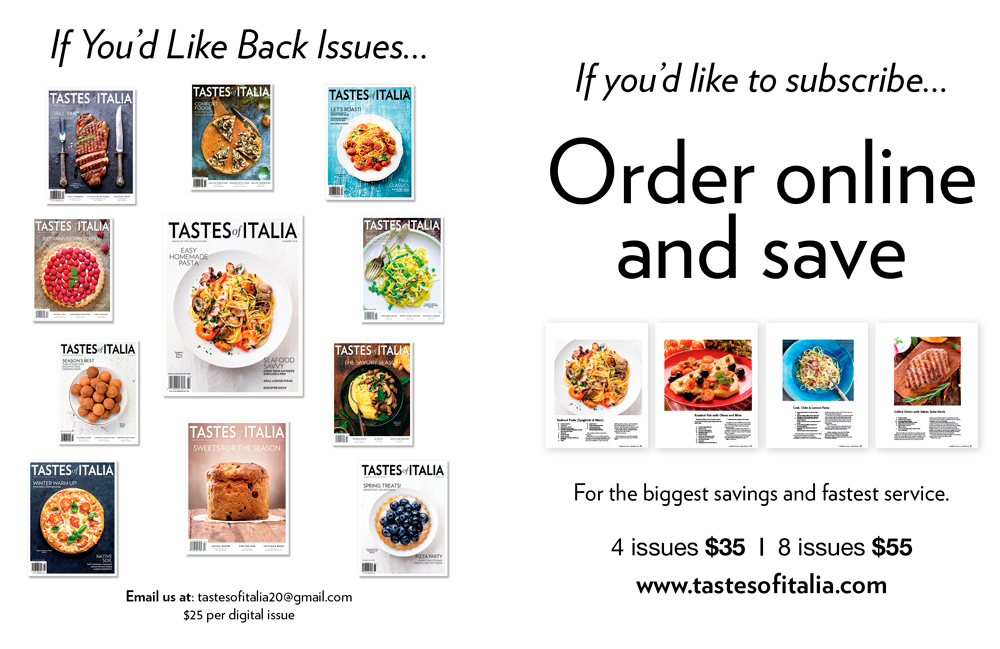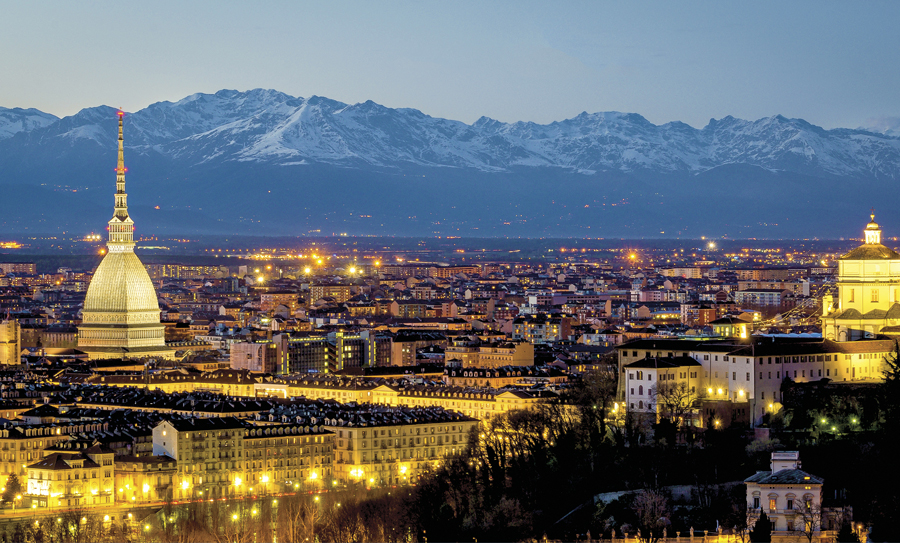 The capital of Piedmont in northern Italy, Turin sits on the western bank of the Po River, below the Susa Valley, and is surrounded by the western Alps and Superga Hill, which is known for the Basilica of Superga and its royal crypt, the traditional burial place of members of the House of Savoy.
Turin, which hosted the 2006 Winter Olympics, is a classic blend of rich history and modern achievements. Many of its public squares, castles, gardens and elegant buildings reflect the city's Renaissance, Baroque, Rococo, Neo-classical, and Art Nouveau architecture. 
The Mole Antonelliana, above, is one example. This iconic symbol of Turin dominates the city's skyline. Built between 1863 and 1889, it is home to the National Museum of Cinema (Museo Nazionale del Cinema). 
While the city's past is impressive, it has also staked out an important business claim in modern Italy. With Milan and Genoa, it is part of the "industrial triangle and is highly ranked for its economic strength. It is home to Italian car makers Fiat, Lancia and Alfa Romeo. 
While exploring Turin, sample the many culinary offerings available. Pasta, braised meats, stuffed zucchini flowers, and fritto misto are just a few. Piedmont produces some of the best wines in Italy – Barolo, Barbaresco, and Barbera, among others. Be sure to include a glass with your meal. See turismotorino.org to learn more about Turin. 
Photo: 
Night panorama with Mole Antonellina and the Alps in the background. 
Photo by Marco Saracco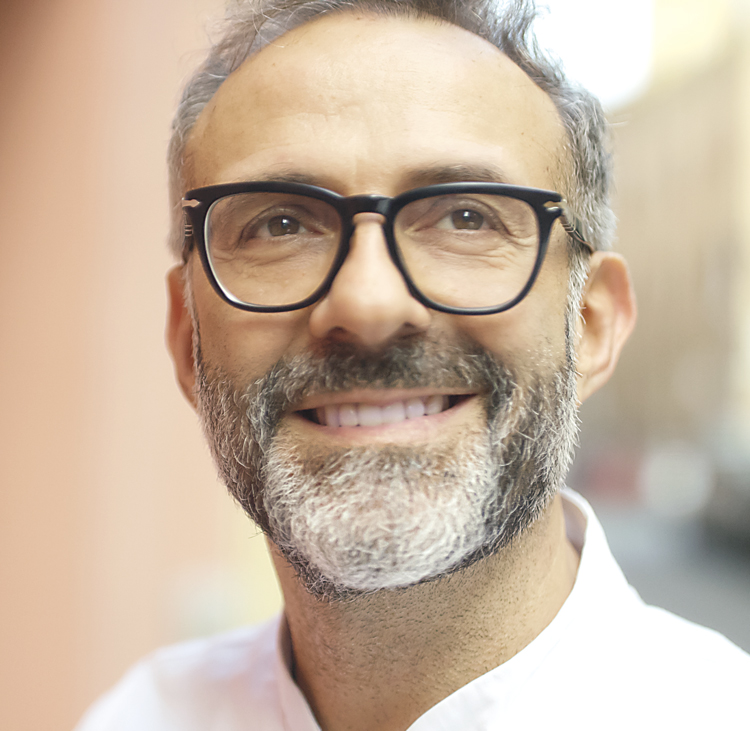 Rock Star Chef
Once criticized for turning Italian cuisine on its head, Modena's Massimo Bottura is now considered one of the world's greatest chefs. Energetic and creative, the pioneer of modern Italian cuisine constantly thinks about new ways to present the country's best ingredients. His restaurant, Osteria Francescana, which he opened in Modena in 1995, has earned three Michelin stars and has previously ranked number one on the World's 50 Best Restaurants list, sponsored by S. Pellegrino and Acqua Panna. Bottura has written five cookbooks and has been featured on Netflix's "Chef's Table" and CBS's "60 Minutes." But he has also put his talent to use for those less fortunate. Through Food for Soul, the foundation he and his wife, Lara formed, Bottura works with other chefs and charities to combat food waste and serves the underprivileged in cities such as Paris. Learn more about him and see some of his recipes in the Spring issue of TOI.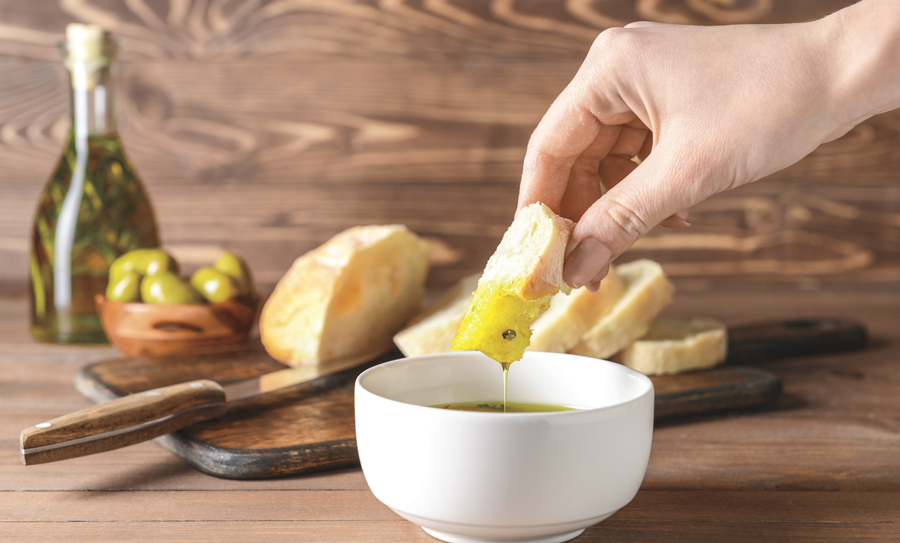 Wilma Van Grinsven-Padberg grew up cooking with butter, not olive oil. But in 2007, she and her business partners took over the Oil & Vinegar brand and "a world opened up for me," she says in her book, The Olive Oil Masterclass: Lessons from a Professional Olive Oil Sommelier (Lanoo Publishers). 
She became responsible for all the purchasing of the Oil & Vinegar brand. Learning as much as she could became a goal, so she turned to Italy and the National Organization of Olive Oil Tasters (ONAOO), established by the Union of Italian Chambers of Commerce. She later became an olive oil sommelier after attending a course at the Culinary Centre in New York and wanted to share what she's learned with chefs and home cooks alike. 
Her book includes a history of olive oil, as well as tips for choosing the best 
In addition to the history of olive oil, Van Grinsven-Padberg explores the making of olive oil, and includes a chapter on how to recognize good olive oil. 
"You first judge from the smell. A good olive oil smells fruity," she says. Then, taste the oil. It should taste fatty, but should not leave a fatty aftertaste in the mouth, she says, an important detail regardless of how you're using this culinary gem.